Custom Built Staircases & Balustrades by Neil Gladwyn Joinery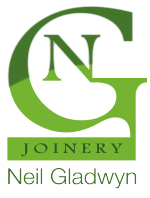 At Neil Gladwyn Joinery we can design, build and install staircases and balustrades for all types of environments including for both commercial and residential premises.
Whether working with your architect or helping you to develop your staircase concept through the design process to final hand-manufacturing and installing, we can produce beautifully robust and aesthetically pleasing staircases to fit the job. From Straight flights, to single or double winder, quarter or half landing, curved or any alternative bespoke design, we can build to your needs using a wide variety of woods including including oak, douglas fir, maple and more.
We also specialise in glazed stairways and balustrades and are able to produce both wooden or metal frame railing options to suit your specific requirements.
Contact Neil Gladwyn to Discuss Your Next Staircase Project...
COLLABORATIVE
Neil Gladwyn Joinery will work closely with you to manufacture practical, robust and beautifully finished Staircases for both residential & commercial Applications. Contact us today for more information.
DIVERSE
Neil Gladwyn Joinery are always on hand to advise you on the best design and build for your staircase and or balustrade project. Whether a straight flight or winder, with glazing or without, we have all options covered
RELIABLE
Our Staircases design and build service is professionally managed by ourselves from start to finish and we'll make sure that installation is carried out with the minimum disruption to your home or place of business.
PERSONAL
As the business owner, Neil Gladwyn takes a 'hands-on' approach and will manage your staircase project personally from start to finish – Neil is always willing and available to answer any questions you might have throughout the process