Beautifully Bespoke Furniture Made by Neil Gladwyn Joinery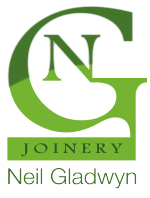 At Neil Gladwyn Joinery we can design and manufacture a wide range of bespoke hand-crafted furniture. From chairs to tables, book-cases, shelves, wardrobes and bedroom furniture right through to occasional furniture for your home or garden.
All of our furniture is built at our workshops to your exact specification and we can provide you with an array of hard or soft woods to chose from for your project – we will, of course, advise you on the best materials to suit.
Our bespoke furniture design service means that our clients can have exactly what they want. If you have an idea for a piece of furniture that you know you are not likely to find on the high street or you want something similar but with your own personalised modifications, then Neil Gladwyn Joinery can help.
We also provide a full glazing, painting, finishing and installation service, and if your project needs some minor interior works to implement, then don't worry, as highly experienced joiners, we can take care of that for you also.
For more information on our bedroom furniture designs and products please see our Wardrobes page.
Contact Neil Gladwyn Joinery today for more information.
For your bespoke hand-crafted Furniture - Contact Neil Gladwyn Joinery Today